e-STORAGE's Robust Value Proposition in Turnkey EPC Services and Long-Term Support
e-STORAGE is a subsidiary of Canadian Solar  and a leading company specializing in the design, manufacturing, and integration of battery energy storage systems for utility-scale applications. The Company offers its own proprietary LFP battery solution, SolBank, comprehensive EPC services complemented by Long-Term Service Agreements (LTSA), and innovative solutions aimed at improving grid operations, integrating clean energy, and contributing to a sustainable future.
Our dedicated international team has a proven track record of delivering global projects on time and within budget. Positioned as a solid, competent, bankable, and reliable choice, we are the trusted partner for clients seeking dependable solutions for their energy storage needs.
One-stop-value: e-STORAGE:
We provide end-to-end energy storage solutions and services, facilitated by our advanced products and strong manufacturing capabilities. Employing an integrated approach and value-added services, we ensure smooth project execution, covering every stage from concept to completion. This results in a streamlined and efficient experience for our clients. Our all-encompassing value proposition revolves around end-to-end energy storage solutions and services, powered by our state-of-the-art products and resilient manufacturing capabilities.
03
Project Implementation
Integrating Battery Energy Storage Solutions
Our Battery Energy Storage Solutions (BESS) are designed for seamless integration, optimizing project performance and economics. We prioritize meticulous project sizing and minimize capital expenditure through strategic augmentation. Our design methodology ensures the selection of equipment that meets local and technical requirements while remaining highly customizable. The e-STORAGE solutions are designed to deliver the required capacity and performance standards.
In execution, our integrated BESS supply encompasses critical elements, including the Engineering Design Package, efficient procurement, and delivery of equipment, commissioning services, and unwavering technical support.
e-STORAGE
Integrating Battery Energy Storage Solutions: Our Methodology:
In the realm of EPC services, we provide adaptable turnkey options, carefully tailored to suit the project's pragmatic and cost-efficient contracting needs. Furthermore, we can function as the exclusive contact point for the entire service spectrum, streamlining the coordination process and offering several advantages:
Our EPC services offer versatile turnkey solutions tailored to the project's pragmatic and cost-efficient contracting requirements, with the added benefit of serving as a single point of contact across the entire service spectrum, ensuring seamless coordination, and delivering advantages such as eliminating scope gaps, mitigating project schedule risks, and efficiently managing the supply chain.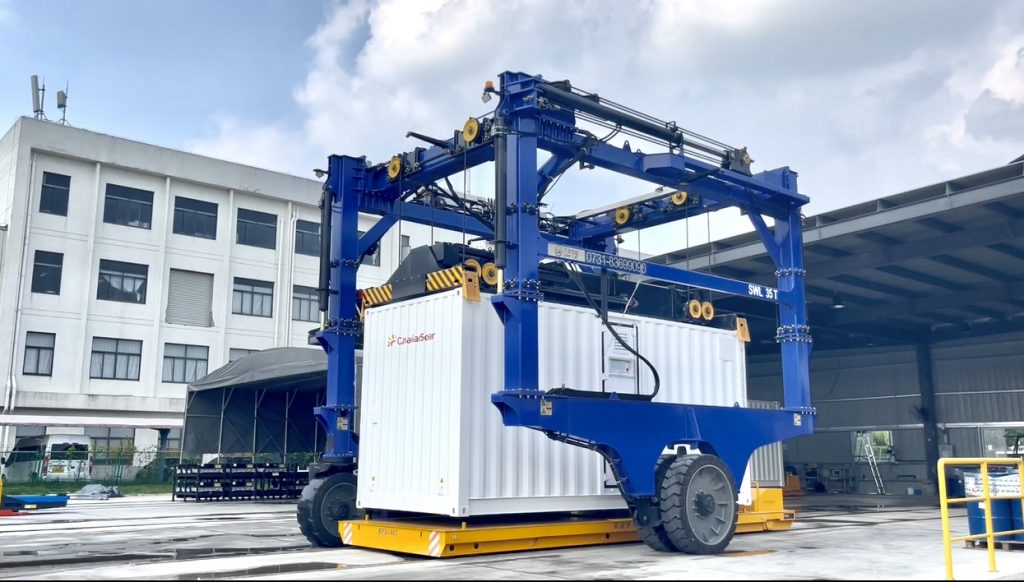 e-STORAGE provides customers with comprehensive LTSA services, offering tailor-made long-term agreements, efficient warranty management, performance assurance, capacity maintenance options, round-the-clock NERC/FERC compliant monitoring, and end-of-life system decommissioning support, all aimed at delivering enduring operational excellence and peace of mind throughout your project's lifespan.
Our adaptable Long-Term Service Agreement Packages leverage our extensive experience and expertise to support your project throughout its lifecycle, offering flexibility in services, robust warranties and guarantees to ensure top-notch operational standards.
Briefly, on our LTSA: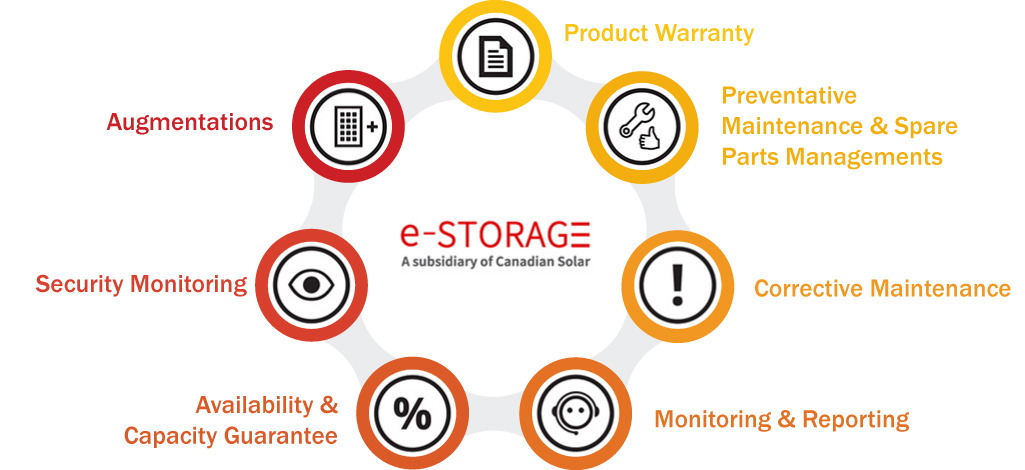 One of the e-STORAGE team's most valuable services is the proactive monitoring of system performance around the clock, which ensures reliable storage capacity availability and safeguards your sustainable investment.
Our predictive maintenance strategy ensures that storage capacity is reliably available when it is needed, thus safeguarding your investment in a particularly sustainable way, namely:
In our monitoring center, we constantly check the performance of your plant around the clock
Our holistic approach encompasses comprehensive maintenance, efficient spare parts management, compliant system communication, and flexible performance guarantees, all fortified by our vigilant monitoring center to enhance system performance and safeguard your revenue.
e-STORAGE
Project Execution Services
e-STORAGE offers comprehensive Project Execution Services encompassing engineering, procurement, and construction, ensuring efficient project management from design and permits to installation and commissioning, delivering seamless solutions to meet your energy storage needs.
Augmentation Schemes
e-STORAGE offers an Augmentation scheme option to keep your project at maximum performance for years to come. Augmentation helps offset degradation and keep the BESS performing consistently over the life of a project. Key Highlights of our Augmentation Schemes:
e-STORAGE
e-STORAGE: Where Team Competence Meets Competitive Value
The e-STORAGE team stands out in the energy storage industry for several key reasons. As a subsidiary of Canadian Solar, we benefit from a robust foundation and the advantage of producing our own cutting-edge SolBank energy storage solutions. What truly sets us apart, however, is our commitment to offering turnkey Engineering, Procurement, and Construction (EPC) solutions, coupled with Long-Term Service Agreements (LTSA). Our dedication to comprehensive solutions is backed by a seasoned international team with a remarkable track record for consistently delivering projects on time and within budget.
Our positioning in the market is clear and unwavering. We are synonymous with solidity, competence, bankability, and reliability, making us the trusted choice for clients seeking a partner they can depend on for their energy storage needs.